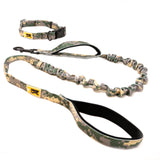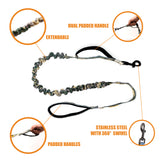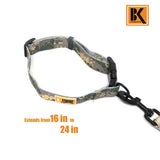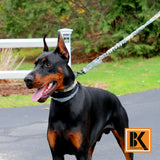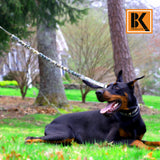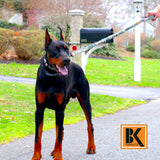 Dog Leash and Collar Set with Dual Padded Handles for Training Walking Running Hiking
UNSURPASSED QUALITY - This dog leash and collar set was designed until perfection was achieved. Special attention was given to stitching, padded handles, reflective material, durability, waterproof material and the controlled pulling. Once you use this leash once you and your pet friend will never want to go back old leash again.

TRAINING WALKING OR RUNNING - This leash gives you the freedom and the control you always wanted. The dog will learn in very short time that there is bungee in it and the pulling its not effective anymore and he will correct his behavior after a very short time. Should you be outdoors or strolling the the mall this set will make your running and walking with a dog much more pleasant and less fatigue.

DUAL PADDED HANDLES - An extra handle was designed right next to the collar for a nice grip and controlled handling of your dog. Both Handles are padded and comfortable and will prevent any problems if you have sensitive or soft skin on your hands. All the joints are double stitched for added security.

CONVENIENT USAGE AND ADJUSTABLE - The leash and collar are adjustable. The leash adjusts it self through the bungee build in and the collar is adjusted for medium or large dogs.

WARRANTY - BK products only manufactures products of the highest quality. Before we launch our products they go through rigorous testing. Should you have any problem with any of our products please contact us as we will remedy the situation no questions asked.