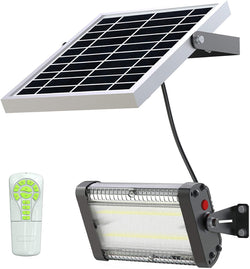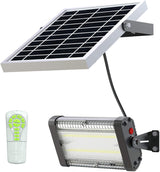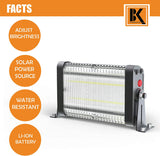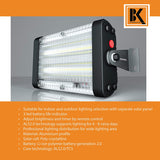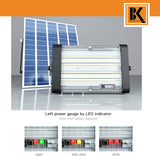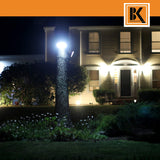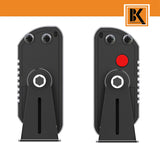 [SMALL] Solar Powered Light - Waterproof Security Lights - Industrial Strength (1000 Lumen)
1,000 Lumen

Super Bright Solar Flood Light. 15 Watts of LED floodlight power. Ability to brighten up a Barn, Shed, Room, Backyard and parking area.

Special design for In-door and Out-door usage and IP65 rating compliant, with multi settings based on sunlight conditions. With IP65 Rating without a Motion Senor. Multi stage light intensity adjustment to fit your needs for Room or Barn light, On/Off with remote control, timer, power (juice) 3 step indicator.

Big advanced Li-ion Polymer Battery Generation 2.0 with 30%-50% more power 8,000mAh = 4 x 2,000mAh Grade A Rechargeable LONG LIFE BATTERY, has the power to stay on longer and run for years and years as long as it gets enough juice from the Sun. Lithium Ion Battery for best performance.

You can detach the light from the 12 foot cord to the solar panel and use it anywhere you want at night, it can be used without the solar panel connect. This is great for camping, inside tents, beach parties, BBQ's at night, out on boats - anywhere you need lighting!
BK Solar Flood Light with an IR Remote Control for Outdoor/Indoor usage, with 12 feet cable! and battery indicator. Light up the areas around your House, Garden, Garage, Shed, Barn or Office. YOU DO NOT NEED TO PLACE THIS LIGHT WITH A SOUTHERN EXPOSURE, as the only part that needs direct Sun is the separate Solar Panel. The cable between the Solar Panel and the Light Pack, Gives you flexibility to place the Flood Light Anywhere, in the Sun, in the Shade, in the Garage or Indoor for a room. Over 1000 Lumens, multi weather settings to harvest the most power, and provide the longest Super Bright Light. Using the Remote Control you can use this Solar Light as a utility light, turn it On/Off when needed, control the time its On: 3 or 5 hours, and control its power: 1,500 Lumen or less. Charges Quickly and efficiently, with its 4.25w separate solar panel. Power Saving LEDs: Uses SMD LEDs for strong light and long life. Large 6,000mAh Battery at 3.7 Volts (3 Lithium Ion Polymer Rechargeable Grade A Batteries). Sturdy Housing Materials: Aluminum Alloy and Toughened Glass, can handle a lot of abuse (It is NOT made of plastic ABS). Light Fixture Size 152mm x 102mm x 51mm (6L x 4H x 2D in). Solar Panel Size 180mm x 245mm (7.1in x 9.6in). Warranty: 1 Year. Need More or Less Power please check our 5000, 4000, 2000 or 1000 Lumen Solar Lights. This solar light has no Motion Sensor.