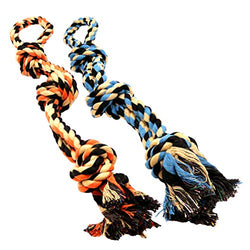 Dog Toys for Aggressive Chewers - Set of 2 Heavy Duty XL Dog Rope Toy
LOVE ON FIRST SIGHT - Whether it's your pup's birthday, adoption anniversary, any holiday gift or just because they're your furbaby and you love them, a BK Dog Rope Toy set makes a perfect gift for your dog! If you find your dog or puppy chewing on things around the house, tame the beast by giving them a dog rope toy and watch them chill out. These of toys that are hand build, packaged right here in USA , made from 100% Non Toxic Cotton, superior on handling and tougher than any other rope toys.

A GAME OF FETCH A TUG OF WAR OR SOME RELAXATION TIME for your dog these toys were build with your dog in mind. The colors and the shapes where carefully designed by our dog experts and trainers so your dog will never feel bored again. There is nothing that is completely indestructible so are our toys, sooner or later they will be chewed up but rest assured that we have tested other toys and our selection stands far superior to the other brands.

HEALTHY AND CLEAN TEETH - Our rope toys are designed to fight plaque build-up, keeping your dog's teeth clean and preventing their gums from disease. Also the dog will be stimulated to have something to look forward too and if it's an old dog they will keep him revitalized if it's a young pup and full of energy these toys will help keep his energy levels balanced.

MADE FOR FUN AND EXERCISE - These dog rope toys will bring the joy and that smile on your dog's face. Carefully selected and build with finest 100% cotton fibers these toys will revitalize your dog energy levels and will keep him busy and entertained

STORAGE AND HANDLING - A BONUS drawstring bag is included in all our packages for easy storing them and safe keeping. We stand 100% behind our product and if for some reason you are not satisfied with how they look we will accept the return and refund you completely no questions asked.