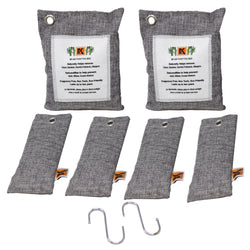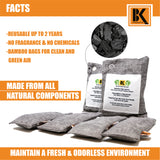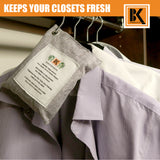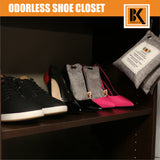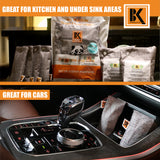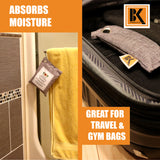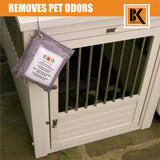 Naturally Activated Bamboo Charcoal Air Purifying Bag - Odor Neutralizer
This set has been specifically designed for your home car or boat needs. It consist of two large bags and four smaller bags packaged in premium package and includes two metal hooks for hanging the bigger bags. 
The products is made from pure bamboo charcoal and is the highest quality product in the market. It absorbs and works faster while leaving absolutely no footprint in the environment and being 100% natural and chemical-free. 
 The BK bamboo charcoal odor eliminator bags have many uses, some of the most common are for odor eliminating, moisture absorbing and air purifying. You can also use them for smelly shoes, or that hard smell on your refrigerator. 
Putting them on your shoe closet overnight will remove the shoe smell all while leaving no scent of its own. It also can be used for other applications as a dehumidifier on small enclosed places, or musty basements.
 MAINTAIN A FRESH & ODOR FREE ENVIRONMENT: This formula has been specifically formulated by our engineers to naturally maintain an odor free, fresh and breathable environment by adsorbing the odor bacteria and neutralizing the air contaminants. 
HOW DOES IT WORK - Leave a bag in any area that needs air purification. Shoes, Closets, Refrigerators, Bathrooms, Gym Bags, Cars, Damp Basement areas and many more, and Our BK Bamboo Charcoal Activated Bags will start filtering the contaminants of the air you breathe by neutralizing the odors and other impurities. 
THE MIRACLE OF BAMBOO: Bamboo charcoal bags work by trapping allergen and bacteria particles that cause irritation and odor. Our Scent free bags are scientifically proven to reduce harmful air impurities that cause odors, mildew and any of the toxins and the odors.