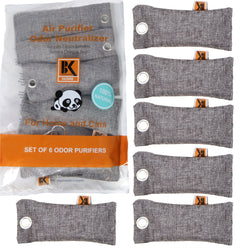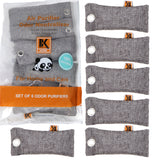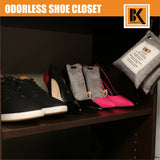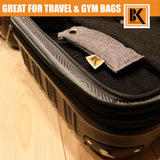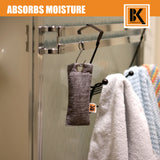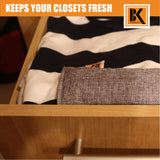 Naturally Activated Bamboo Charcoal Air Purifier Bags - Shoe Odor Eliminator
MAINTAIN A FRESH & ODOR FREE ENVIRONMENT: This formula has been specifically formulated by our engineers to naturally maintain an odor free, fresh and breathable environment by adsorbing the odor bacteria and neutralizing the air contaminants.

HOW DOES IT WORK - Leave a bag in any area that needs air purification. Shoes, Closets, Refrigerators, Bathrooms, Gym Bags, Cars, Damp Basement areas and many more, and Our BK Bamboo Charcoal Activated Bags will start filtering the contaminants of the air you breathe by neutralizing the odors and other impurities.

THE MIRACLE OF BAMBOO: Bamboo charcoal bags work by trapping allergen and bacteria particles that cause irritation and odor. Our Scent free bags are scientifically proven to reduce harmful air impurities that cause odors, mildew and any of the toxins and the odors that might be causing a disturbance with your respiratory system as well as your overall health. It's ability to trap and filter toxins, allergens and pollutants is truly remarkable.

LIVE A MORE NATURAL LIFE: The Purifying Bags are made from 100% bamboo oxygenated charcoal and are chemical free, fragrance free and eco-friendly. Safe around children and pets you can rest assured knowing you or your loved ones are not being exposed to any chemicals or harmful pollutants. PREVENT MOLD, MILDEW & EXCESS MOISTURE: Our bamboo charcoal deodorizer easily cleans air by trapping, filtering and absorbing airborne moisture, thereby reducing mildew formation and other pollutants know

REUSABLE AND RECYCLABLE: BK Bamboo Charcoal Activated Bags can last many years if properly cared. To rejuvenate simply place the bags in direct sunlight for 1 hour every month or as needed and then put it back to work again. At the end of its life just dispose in your garden and your plants will thank you for that too.