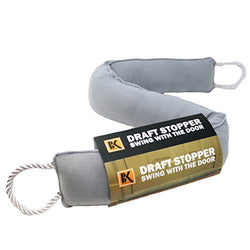 Draft Stopper - Door Draft Stopper Blocker - Under Door Weather Insulator Seal 37 inches
Swings with the Door or Window - Never Bend Again. The Brand new design of BK Door Draft Stopper has achieved a breakthrough in draft technology . Our Draft Stopper is build with new material that is design for two purposes to keep the Draft Out and to Stick to Fasteners while the door opens and closes carrying the heavy draft stopper.

Fits Doors or Windows up to 36 inch. If its larger than your door, o Problem just bend it at 90 degrees.

Blocks Cold Air from entering or A/C from escaping - The materials in our Draft Stopper were optimized for keeping the cold outside in the winter and A/C inside during the hot summer days.

Confines Different Odors To Enter/Escape under the door - weather you smoking in one room or cooking in the other, the smell will have hard time escaping under the door if the Draft Stopper is there.

Helps Save Energy - The heating furnace in average works up to 50% more than needed because heat is escaping from your home, whether your windows are not closing tight or your doors have a gap our DOOR DRAFTER will do the job and help keep your bills low.