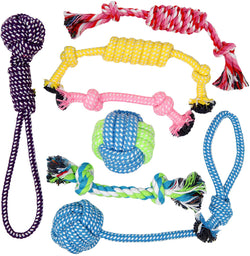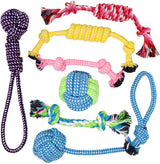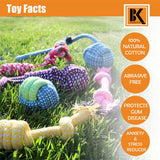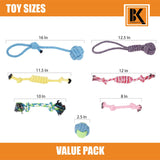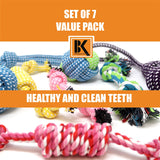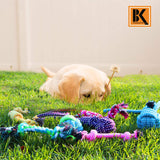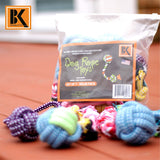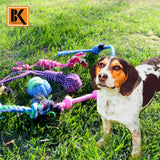 Dog Toys for Aggressive Chewers – 7 Small Breed and Puppy Teething Chew Toys Made of All-Natural Cotton – Gentle Dog Rope Toy Set Stimulates Gums, Helps Fight Plaque, Relieves Boredom and Anxiety
OCCUPY LITTLE CHEWERS with rope dog toys for puppies and small breeds. By re-directing gnawing to appropriate dog teething toys, you will reduce your puppy's boredom and avoid destruction of your shoes and home furnishings.
7 DOG ROPE TOYS in captivating colors offer knots, balls and coils that entertain for hours. Providing an array of textures will help ease sore mouths as teeth come in and distracts nervous puppies for dog separation anxiety relief.
PROMOTE DOGGIE DENTAL CARE with gentle rope fibers that floss gums and help reduce tartar and plaque build-up. Using our puppy chew toys for teething helps keep teeth clean and healthy and puppy breath fresh-smelling.
100% NATURAL COTTON FIBER puppy chew toys have no sharp edges and are BPA-free and non-toxic. Handmade from premium materials, they are long-lasting and tough dog toys though not completely indestructible.
THOUGHTFULLY SIZED for puppies and small dog breeds, the BK Dog Toys multipack is perfect for Boston Terriers, Pomeranians and Dachshunds. Fun, vibrant colors add allure to our puppy toys and hold your pet's attention.
Re-Direct Destructive Chewing
Bored, anxious or teething puppies can damage chair legs, door jambs, loafers and more if left unchecked. Our collection of dog chew toys for enthusiastic chewers is perfect for the small dog or puppy who feels the need to gnaw. Featuring 7 durable dog toys made of 100% natural cotton rope, BK Dog Toys Puppy Toys for teething offer soothing and spellbinding surfaces for working-out frustrations and bringing relief to tender, inflamed gums as teeth start coming in.
Make Your Puppy Smile
These cotton fiber rope toys for dogs have been designed to provide a variety of interesting textures and colors that keep your puppy or small dog engaged. Some have looped handles for use as dog tug of war toys that you enjoy together. In addition to giving your pet appropriate items of his own to chew on, the fiber strands help ward-off gingivitis by loosening plaque and food remnants from teeth. Your pup will have a bright, shiny and healthy mouth full of teeth to last him into his golden years.
Handmade with TLC
BK Products is a Massachusetts-based dog supplies company that takes pride in providing puppy accessories based on human standards of safety and love. We spend tremendous time on research and development of our dog essentials, sourcing premium raw materials and achieving safety certificates for your pet's well-being and your peace of mind. This makes our teething toys for puppies perfect for your own pooch or to give as dog gifts for new dog owners.
For small dog toys your pet can really sink his teeth into, add the BK Dog Toys Bundle to your puppy supplies today.