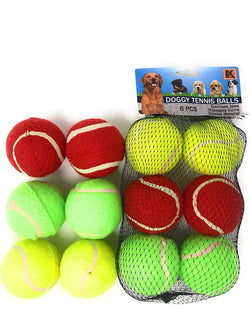 Interactive Dog Tennis Balls for Training - Exercise - Games and Fetch
✅Set of 6 playing dog balls. no annoying squeaks and safe for your pet not to choke in it. These toys are not for chewing, they will break, these are for throwing and fetch and similar fetch games.

✅Safe alternative to other balls as these contain No harsh dyes or synthetic rubbers, Made with non-toxic high quality material, light and soft yet durable,100% safe for all pets.

✅Great for exercising and keeping your dog in shape. Combines two canine favorites, the fetch toy and the tennis ball.

✅Made with three vibrant colors to keep your dog interested in the game longer.

✅Made from natural rubber material for longer lasting life. these balls are not air balls and not intended for tennis games or for bouncing.even if punctured these ball will not deflate.