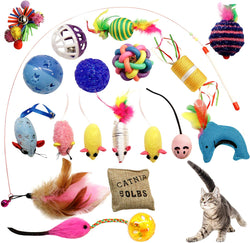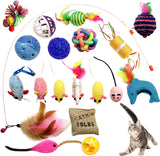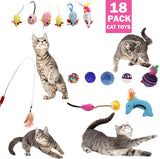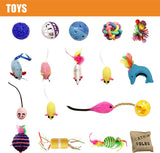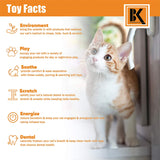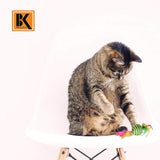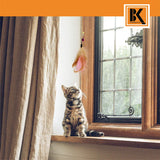 Cat Toys - 18 Pack Cat Toy Assortment - Playhouse Variety of Catnip Toys
Keep your kitty from clawing and scratching furniture around the house. The BK Cat toys are made with your pets safety in mind. Made from 100% Natural Cotton and Safe Colors your Cat is bound to love these cat toys. They are made with Real Catnip are handmade and no other toys like these can be found elsewhere. We take pride on all our products and stand behind each and every single package that leaves our warehouse.

Vitalize & quicken instincts while providing fun & exercise. Physical development and coordination are very important to cats of all ages. Your Kitty will love the cat teaser wand, interactive feather toys, fishes, fluffy mouses, variety of colorful balls and bells and so much more.

Create that special bond by surprising your lovely feline with a Cat Toy set. Interaction is a must.

SAFE, Eco-friendly products, absolutely non-toxic & high-quality materials.

You get the BK GUARANTEE 24/7 Costumer Support - For any reason if you're not 100% satisfied with our cat toys we will refund you with no questions asked!